(C++) XML Tree Traversal Order for Search* Methods
The Chilkat XML API provides a number of Search* methods for locating XML nodes based on criteria. These methods traverse an XML document in a breadth-first order. (See Breadth-First Search).
The XML document used in this example has the following tree structure: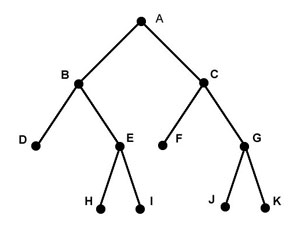 The nodes are traversed in the order: A, B, C, D, E, F, G, H, I, J, K.
The input XML, available at http://www.chilkatsoft.com/data/searchOrder.xml, is this:

<a>crocodileA
    <b>crocodileB
        <d>crocodileD</d>
        <e>crocodileE
            <h>crocodileH</h>
            <i>crocodileI</i>
        </e>
    </b>
    <c>crocodileC
        <f>crocodileF</f>
        <g>crocodileG
            <j>crocodileJ</j>
            <k>crocodileK</k>
        </g>
    </c>
</a>

Chilkat C/C++ Library Downloads
#include

 <CkXml.h>



void

 ChilkatSample(

void

)
    {
    CkXml xml;
    CkXml *xBeginAfter = 0;
    CkXml *xFound = 0;

    

bool

 success;
    

// The sample input XML is available at http://www.chilkatsoft.com/data/searchOrder.xml


    success = xml.

LoadXmlFile

(

"searchOrder.xml"

);
    

if

 (success != 

true

) {
        

std::cout

 << xml.

lastErrorText

() << "\r\n";
        

return

;
    }

    

// IMPORTANT:  The following loop for iterating over all 


    

// matching nodes performs reasonably well for small to 


    

// mid-size XML documents or sub-trees.  Performance


    

// can be poor when the sub-tree contains many thousands


    

// of nodes (or more).



    

// NOTE:  The search is always rooted at the calling node.


    

// In this example, it happens to also be the root node of the entire


    

// XML document.  Searches can be performed on sub-trees


    

// within the document by calling the Search* method from


    

// the root node of a sub-tree.



    

// Demonstrate the breadth-first traversal:


    xBeginAfter = xml.

GetSelf

();
    xFound = xml.

SearchAllForContent

(xBeginAfter,

"*croc*"

);
    

while

 ((xml.

get_LastMethodSuccess

() == 

true

)) {

        

std::cout

 << xFound->

tag

() << "\r\n";

        

delete

 xBeginAfter;
        xBeginAfter = xFound;
        xFound = xml.

SearchAllForContent

(xBeginAfter,

"*croc*"

);
    }

    

delete

 xBeginAfter;
    }